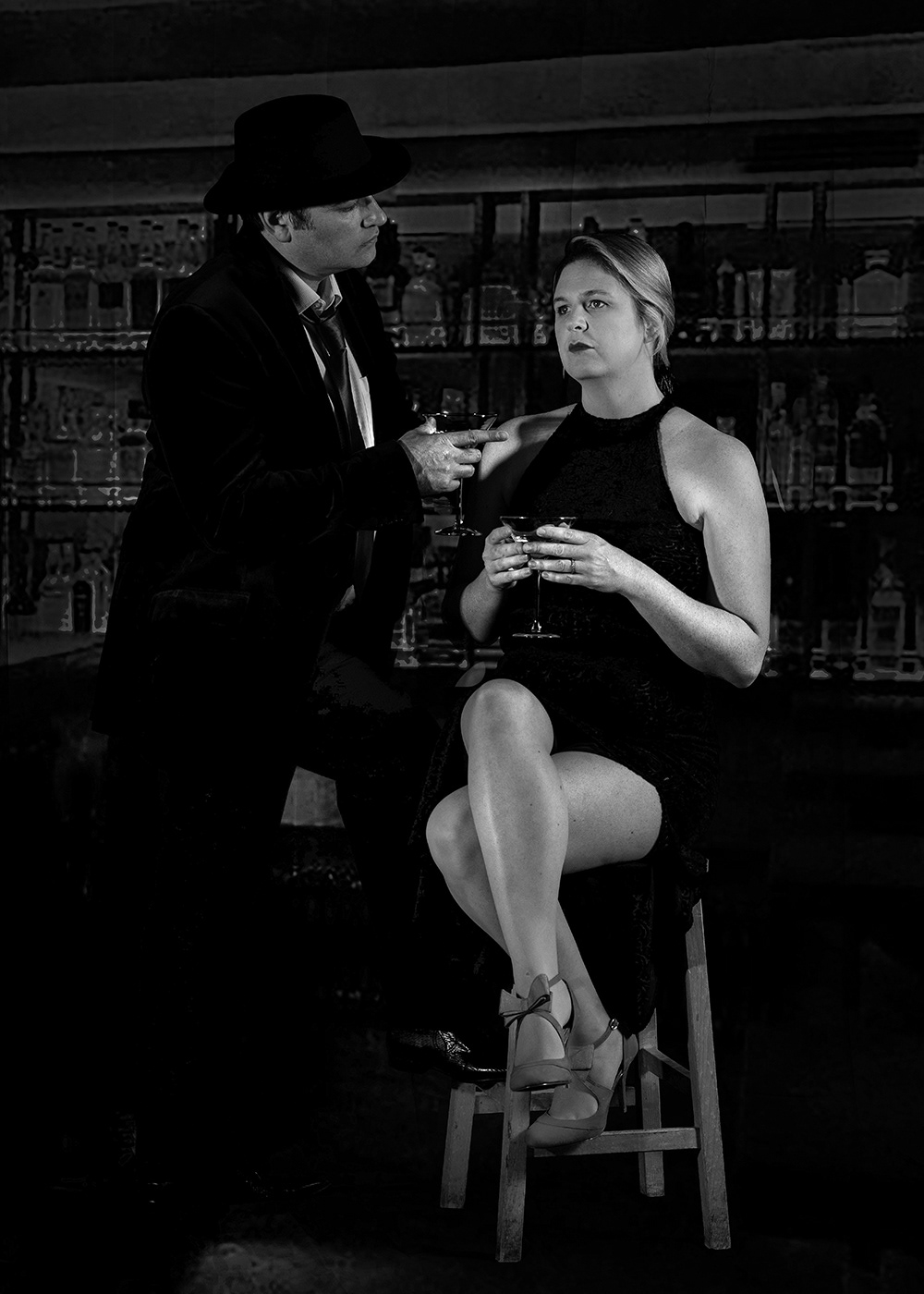 "No Thanks".

This is a photo I took a few weeks ago. I used my daughter and husbands as models.

They were captured in front of a green screen. I added the background with Green Screen Wizard and converted to BW with Nik Silver Efex.
This photograph is one of a series I hve taken over the past three years with ARPS in mind. I show my roughed out statement below if anyone is interested and has time to comment. Thanks, Ian

Statement of Intent.

The Femme Fatale in Film Noir - Post  World War 2             
The Noir Femme Fatale is characterised by strong independent women. Women empowered by the move from home to work place during Second World War. This was a real role reversal in the genre of cinematographic film.
Chiaroscuro style lighting will be used as contrast between light and dark to emphasise and illuminate the important figure in the image.
All the images will be in black and white photography to help reflect right and wrong. The dark and the light. This can be seen as a dark period for the male. A darkness illustrated by more black than white.
The male protagonist of these dark films, with his infatuation with these beautiful and elegant women, went down a dark path to problems, maybe death.With the subtle art of seduction the Femme Fatale would manipulate men under their spell.
My images are influenced by both contemporary neo-emotionalism art and period images of Hollywood Glamour.
Credit is given to a number of cinematographic film noir and their actors including Joan Crawford in Mildred Pierce, 1945, Rita Hayworth in Gilda, 1946, Ava Gardener in The Killers, 1946.
Influencing photographers include vintage George Hurrell and contemporary Peter Lindbergh.